With a Jump Off a Cliff
"Look I hear what you guys are saying but I didn't come here to be convinced out of doing it. I've felt like this for two years. There is so much anxiety and anger built up when I walk through the door each night. In my time of thinking and praying about this, I've felt so much relief in deciding to get a divorce from Sarah." And just like that, the air in the room evaporated.
My mind raced to remember any part of scripture that could be helpful in response. This felt way more real than I thought it would. Just 30 minutes ago we were shaking hands and talking about which church campus we attended. Now I was racking my brain for any sort of truth I could find to help remember the truth, power, and joy of the gospel. Ryan was in a dark pit of despair. It was like he had stepped into a tar pit and let himself slowly sink down over time. I knew I had the light and rope to give him and help pull him out; it was just a matter of how.
That's where I found myself just a few weeks ago during our first oral exam. An hour and a half of endless back-and-forth discussion with a never accepting persona could seem exhausting and maybe a little discouraging, but I tell you that I left that room so encouraged! I realized that I could do this! Maybe not perfectly or always with the right scripture or timing of words, but I could encourage and point this guy to Jesus and the truth of his Word. I'm twelve weeks into my residency now. What a cool thing to be able to say. I'm excited for the weeks to come in this course, seeing my hunger for more and better knowledge of God grow rapidly.
Before I dive into the rest of this month's happening, I wanted to share with you a fun mini side-project my friend Noah and I made. It's shot from a DRONE! I've never done anything with a drone before so be kind in your thoughts of flight/video quality, but I figured it might be a cool way for you guys to get a better sense of where I live and the places that I visit frequently so I cut some footage together the other day for ya'll to see. Check it out!
Apart from drones, this third month has been a season of beginnings! My missional community (MC) has started meeting on Thursday and it's been a much-needed access point to socialize with people outside of work. Don't get me wrong I love the people I work with. I find that if they are the only people I see and hang out within a week then I can start to go a little stir-crazy. Being so extroverted and such an energizer, I enjoy having new situations and new faces to interact with. Our MC has shared meals together, prayed for the Stone's missionaries and unreached people groups across the world, begun to read through Romans, and begun hanging out in the city. What a cool environment to be vulnerable, authentic, and engaged with other believers and non-believers in Austin.
This month has been one where I've really started to see my deep need to be around and with people. God's shown me that to be true in two pretty different ways being with and without people. There have been many opportunities to get to know the people around me at work, which has been fueling for my soul. One day we had a salad potluck lunch (which I admittedly had to ask questions about, having never heard of such an idea...) where I was surprised at how much I got to know my co-workers from the Story Team. I've also been getting know other creatives within the church body at our monthly Worship Collective. Some of us residents even got to go recruit at Texas A&M (the homeland) over a few days this month and I have rarely seen myself so quickly wired for something. I LOVE getting to meet new people and tell them about something I'm passionate about, specifically, answering questions on how and why they should be apart of it too. It reminded me of my time at Breakaway getting to do interviews for new volunteers. A bunch of us new residents even went on a quick camping trip this last weekend to Pace Bend Park and had a great time. I don't know of many things better than heading out into the wilderness with your friends, away from the noise of technology and civilization, and getting to talk and move a little slower with each other. Getting out of the city forced me to gain space and time to be refreshed and to process this month. Plus look below and you'll see me jump off of some cliffs! (There might even be some bonus footage from the Only Jesus Launch party that happened at the beginning of the month!)
So it's been easy for me to hit God's social-engagement softballs, but it's been a bit more difficult in the moments where He's throwing some isolation fastballs. Team, I feel that there have honestly been too many moments this month where I've found myself bored, alone, and at home. In those stretches of solitude I've seen how much I desire to be with other people, and how even practically, I should be around other people even if it's just to keep myself out of trouble! My Life Transformation Group (or LTG) has helped me tremendously in this area. Having two other guys know every detail about me, good and bad, is powerful. Often in my life I feel like I can sit in my Christian bubble and put on a good face for everyone around me when really I might be drowning in shame and/or guilt. That story changes when you start meeting with two people everything Thursday with the intention of confessing your sins publicly, sharing the reality of your wicked heart, as well as how you've seen God moving in your life. There isn't room to hide. I pray that everyone would find or start something like this! There is a powerful moment in scripture that says this well. "Confess your sins to each other and pray for each other so that you may be healed. The earnest prayer of a righteous person has great power and produces wonderful results (James 5:16 NLT). Friends, this is true! I am convinced more than ever that no believer should go a week without some sort of confession to another whether big or small.
In all, it's been a good month. I've learned more about myself and how I'm wired to be with and loving people. I've re-realized the dangers of being bored and alone. I've even seen the power of God's Word to speak into my life in ways I didn't think possible if I'm willing to just open the Word every day. It stuns me to think about how insane it is the amount of things I'm processing and thinking and learning each month. I even had the thought of starting to journal a little bit to help my brain remember and keep up with everything! Until then, these monthly updates will have to do. Now I'll let your mind rest a little bit with some more cool stuff. Check out some projects I've been working on over the past month and be sure to read give me your thoughts!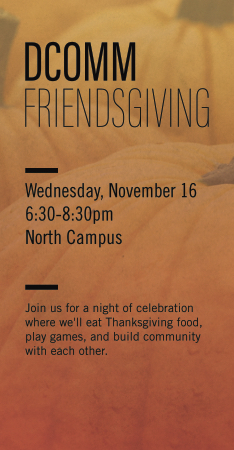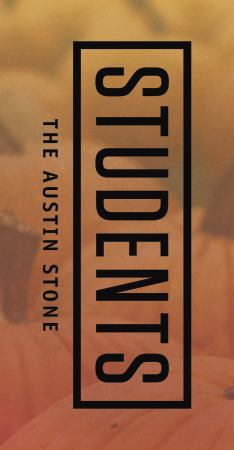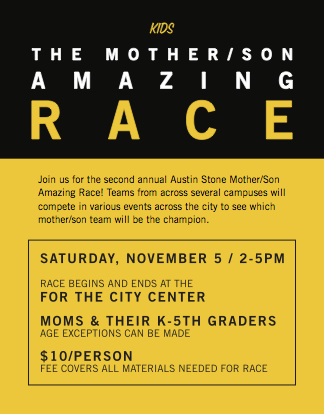 Lastly, I want to, again, tell you how thankful I am for each of you. Most all of you care a whole lot about me and I hope this continues to give you a good insight into what my time is like here in Austin. More than just what it's like but even how I'm experiencing it as well. Before you go, I'd love to let you know how you can be praying for me in the upcoming month.
Pray James 1 over me; that I would, more than I ever have before, been slow to speak and quick to listen.
Pray that I would daily recognize the opportunity I have to learn more about my God through reading and studying the bible; that I may fall more and more in love with Him.
Pray that I would begin to step into opportunities I see to serve past my role as a graphic designer; that I may fall more in love with Christ's bride.
Pray for the city of Austin; that God would continue to move powerfully here!
I am praying for each of your supporters by name throughout this year. Let me know what I can be praying for you about! There are a lot of you and only one of me, so don't be shy in reaching out with a prayer request. Send me an email, a text, call on the phone and let me know what is happening in your neck of the woods! I'm serious! Let me know your thoughts on the blog posts. Tell me why you liked them and what you wished you could have heard a bit more about. I only know what to change or add if I hear that feedback from you guys so don't be shy in sharing your thoughts with me. Your feedback has already been so helpful and enjoying to me. I love getting to hear how I can be praying for you!
Be encouraged and know that God will bless you for your faithfulness to Him.
–Alex