2018 Women's Retreat
Relaxation and refreshment can never seem to come often enough in the relentless, daily struggle of balancing work and life. Every spring, the women of The Austin Stone Community Church come together to not only hit pause on life, but to be genuinely refreshed, encouraged, and equipped to go back to their daily routines with renewed vigor for whatever season of life they find themselves in. This year's theme focused on being "Devoted." We had the challenge of figuring out how to create an environment that evoked those feelings while staying clear of the typically female design tropes.
Branding
Environmental signage
Directional signage
Social media images
Motion graphics
T-shirt & print collateral
Web design
The Austin Stone Community Church
But Not Too Girly
The Women's Retreat team's ambition for the weekend was so far above simply being an event for women to attend. They wanted visuals to reflect their desire to create a space of rest and deep connection where women could grow and thrive. Much of my initial focus went toward purging my mind of usual ideas that first come to mind when thinking of a women's retreat, which led me to quickly multiply art boards and sketches to push ideas past typical "girly" designs.
When gathering initial inspiration, I tried to cast a wide net, allowing any initial idea to be explored. This helped me get past the first few obvious ideas and develop more unique ones that better catered to the client's specific vision. The client was attracted to a strong visual in which different "threads" came together, so I let that take prominence in what I gathered. Although not every image is dictated by color, I chose a good number of earth-toned images based on the client's initial desire to stay away from a traditionally obvious "girly" feel.
No idea is a bad one at this stage, so the art boards multiplied in number quickly. I took crude sketches, vectorized idea fragments, and followed multiple rabbit trails, always being sure to pause and check my progress against the initial creative brief. A lot of my focus caught a hold of how well tapestries, branches, and the biblical imagery of vines personify growth and unity.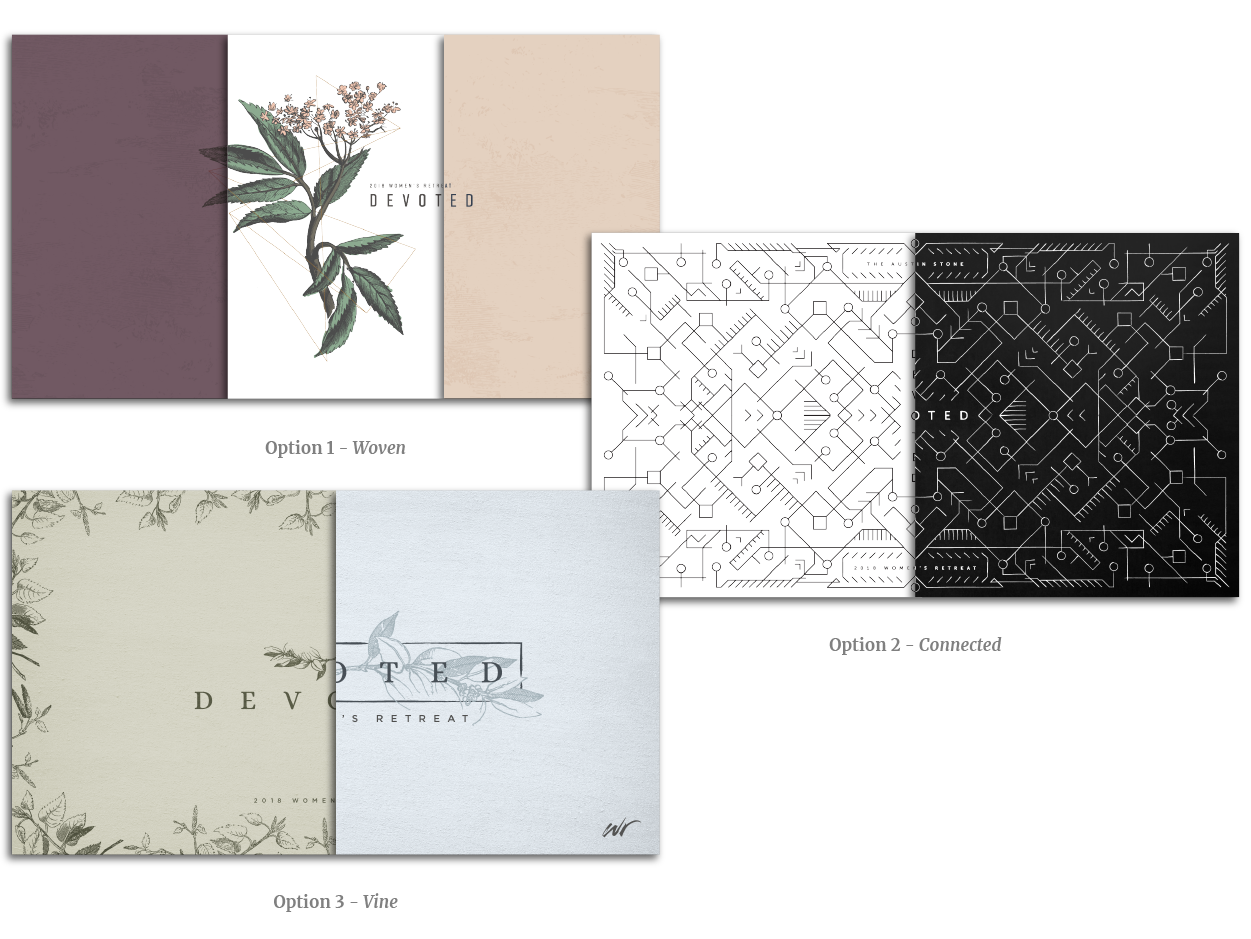 I reminded the retreat team of the initial creative brief, casted vision for where we wanted to go together, and addressed how each option met the team's goals. Option 1 expresses the desire to visualize "living a life worthy of the calling you have received" through a geometric web woven around an elegant, upward-moving branch. This signifies the various interactions and relationships existing in a complex living thing like a community of people. Option 2 exudes strength from multiple strands coming together through blending a traditional tapestry with a circuit board in an attempt to connect the ideas of beauty, unity, strength, and stability. Option 3 communicates unity through connection by visualizing a tree or vine with many leaves on it.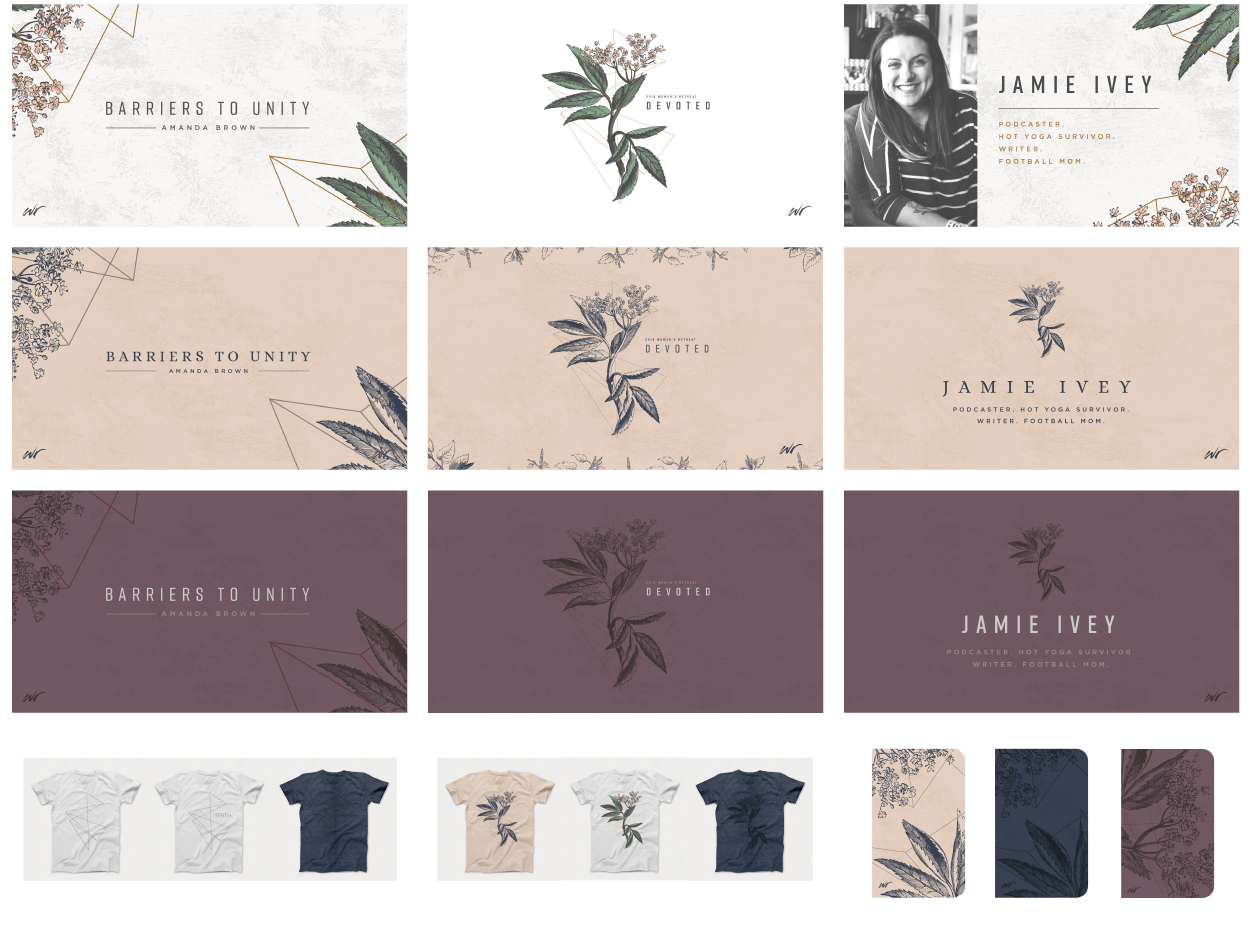 04. Revisions & Final Presentation
I took their feedback from the initial presentation and headed back to the drawing board to make some edits, such as tweaking colors and pulling fonts from one concept to work them into another. At this point, I started to build out more of the brand, extending out to physical products and social media images. The team connected with the concept of the upward flourishing branch surrounded by a geometrical net, but was curious to see how a different typeface and color scheme might give the brand a better sense of the unity and elegance they were looking for.
Initially, I was really excited to see where Option 2 would go, thinking that it might be the direction in which they wanted to move. But I had to put its further pursuit to the side when they chose Option 1. The first option most strongly emphasized their goals of growth and an expression of upward momentum. The web-like grid around the branch provides extra strength and stability to the elegance of the branch while not overpowering it's feminine flair. The muted earth tones help further set this retreat apart as they desired. The typeface solidifies the elegance of the event while still providing unique flair and intrigue, like the clipped serif on the right side of the "V."
The rotating images above are a few of the slides created for the retreat that were designed to blend seamlessly into the large backdrop installation which completely filled up the areas surrounding the stage from wall to wall.